Q. You are obviously proud that your baby is blossoming across the world, your website boasts that you are the true vocalist and talent responsible for the international hit "Castles In The Sky" in quite a few places. How did you get hooked up with Ian Van Dahl?
A. I called some musicians who announced in a radio show that they were looking for a singer with experience in dance music and got a voice test. The two musicians were Erik Vanspauwen and his brother Geert Vanspauwen that were asking for a vocalist. Erik was the "musician" and Geert was the moderator and the initial songwriter of the team. They had been experimenting with quite a few singers before, but without any success. After my voice test, I came out best. After a couple of months, it became apparent that I was good at writing lyrics myself in contrast to the previous singers, and Geert felt he was no longer needed. So Erik and myself were working on our own from then on.
I had been working with Erik for over a year before "Castles in the sky" was born. At that time, Erik was what you might call a mega producer, as he produced about a dozen tracks a week, and each week we got together. Erik then gave me a couple of tracks on a CD or a cassette, out of which I could choose one for which I made up lyrics and a vocal melody.
Q. Where did Christophe Chantzis of Absolom (the other half of Ian Van Dahl) come in to the picture?
A. It was only after a year or so that Christophe Chantzis joined the team. That's when I got a demo, some music, which didn't have a title back then yet, but would become Castles in the Sky. This demo was merely a loop of the rough-cut theme. I listened to this loop over and over again, to the point where those around me told me to wear headphones eventually.
Q. You wrote and obviously sang the vocals, did you have any co-writers on the single?
A. The vocal melody and the lyrics of Castles in the sky are mine. No co-writers, the lyrics were taken as I wrote them. Although Christophe hated the lyrics and the vocals of mine, which he thought interfered with the music too much (mind his Absolom remix without any vocals), A&S recordings took my version of Castles In The Sky with my vocals and complete lyrics on it to MIDEM, the biggest European music conference held annually in Cannes, France. I immediately turned out to be a success as the song was signed for eight countries right then.
Q. How long did it take you to write the lyrics and melody to Castles?
A. It's really difficult to make an accurate estimation of the time I spent on writing the lyrics. Actually, as soon as I get some music (which usually is no more than a rough-cut version of a song) I'm on a search for words, which reflect the emotions and impressions that I get from listening to a song. You could see it as some sort of puzzle. Castles In The Sky was written in this fashion over a period of approximately two weeks. I have been writing songs and singing them, writing English and Dutch poems since I was 10 years old, so you could say that both talents have been developing for some time already, since I'm 25 years old now.
Q. So you had a major hit on your hands. Why didn't we see more of you?
A. After the recordings for Castles in the sky I heard nothing from the record company. I had to constantly call them to hear nothing but lies. I had no clue whatsoever that they intended to put someone else on stage. For me, as for most people it's self-evident that the real singer will be on stage. Then I found a flyer announcing a performance of Ian Van Dahl. I got excited and also a bit suspicious. I called (Erik and Christophe) up to ask them whether or not they knew about this but they pretended to know nothing.
The week before the performances they finally confirmed and told me that they had found two dancers already. Later I found out that they were three, but the third one I never met in person. Because I was looking forward to these performances they set up this screen test. This so-called screen test was only meant to break me, to make me lose every bit of self-confidence... so I would give in and let someone else take my place.
I never gave in, but they hurt my self-confidence pretty bad. This must have been one of the dirtiest tricks I ever had to experience in my life. When I rang Erik he told me that these girls where brought in by Christophe Chantzis. He also told me that they had been practicing for a couple of months already.
Although Christophe was still trying to fool me that I would be allowed to do the performances for the next song, Erik was so kind to tell me that they never intended to put me on stage, EVER.
Q. Did they have the other vocalists hired when you were cutting the vocals for Castles?
A. All of this happened with three different girls than the ones on stage for Castles In The Sky now. The girls presenting Castles now are not the first ones replacing me. The first replacement was Cindy Mertens, she is the girl that you can see in the video. They have chosen to replace her because at a lot of performances it was really too obvious that she was lip-synching.
The other three girls, the current Ian Van Dahl act, were obviously not involved in any way back then, otherwise it would have been stupid to chose yet another girl to feature in the video, nor were they involved in any way at the time Castles in the sky was created. They only got into the picture a year after the song had been released.
Q. How do you feel towards the new vocalist, who are obviously quite flamboyant about their penciled in success using your song? BBC Radio quoted, saying "Ian Van Dahl have revealed they have just had to give up their day jobs because of the success of 'Castles in the Sky'." and quoted "Janine", one of the new members who used to be a nurse, saying "I had to perform first aid on a woman who fainted at our performance not because we're that good but because she was a diabetic and I had to help her." Is it rage, is it anger, or is it disappointment that it isn't you?
A. The thing is, I wish them luck in everything they all do, but they have no right whatsoever to anything related to Castles.
Considering the fact that I had to quit two jobs over one song, without even getting proper credit for it, obviously the first word that came to mind when I found out about this was "injustice".
Of course I have been upset about all of the things that happened, you know. I could have reached what I have been working for all these years already, but they simply took it away from me and handed it over to a bunch of girls who have no clue whatsoever where this song comes from. Being replaced twice doesn't make it easy for me to accept what happened. But anger or rage or whatever really takes too much energy, which I prefer to put into my musical career. So I think if I had to choose from the three options you gave me it would be disappointment, although I just try to think as little as possible about all of this. I try to think about the solution not the problem. I just want to move on and build myself a steady foundation underneath my Castles in the sky.
Q. What were you doing for work, and why did you have to quit?
A. During the time that I had been working with this company as a sales person, I was called to recording sessions (mostly for demos) several times at very short notice. So when I had to have time off for the recordings of Castles in the Sky, the boss didn't want to give me a day off. He told me "you have the choice, either you sing or you work for the company". I took a chance and said well, I'm afraid that the choice is made then, because I cannot just let this opportunity pass me by.
Q. I heard you got in a car accident on your way to the studio. What happened there?
A. Well, my previous car, which was an old Ford Sierra 2.3 diesel, was not quite what you call reliable. It was very rainy and I crashed into a row of cars stopping for a red light. I noticed it too late. Maybe it was more or less because of being busy thinking about stuff and singing in the car, which I love to do. I had to buy a new car, which was not so easy after losing my job.
Q. What have you learned from the Castle experience?
A. Don't be naive. People are not always what they seem; for the music industry I should even adapt this saying to "people usually aren't what they seem". I have learned to question people's intentions before just simply going along with them. I make my own demands now. You could say that right now I really don't trust anyone just like that. Some people have a hard time with accepting that. But that's just the way Castles in the Sky and all the deceit surrounding it has changed me.
When all of this misrepresentations and every other kind of deceit and lies concerning Castles in the Sky has been set straight, I hope to have learned that honesty really is the best policy and that truth will always prevail.
Q. Did Ian Van Dahl try and work with you again?
A. They asked me to do the follow up single, but they already had someone else, the first girl, the one in the video, replacing me and they even presented her as being Marsha! So when they asked me, I asked them "Am I going to be allowed to do the performances?" They answered "No". So that's when I told them "I guess then this is where our roads part". And that was it for Ian Van Dahl for me.
Q. Was it the 2nd single Will I? Or did you not even ask for the details?
A. Well the second single didn't have a title yet. I was supposed to write lyrics and vocal melody for that one as well so it wasn't called Will I or anything else yet.
Q. How would you describe your voice and your vocal style?
A. I would describe it as... hmm... "me" (laughs). I'm not trying to imitate anyone I'm just being me when I sing. I personally feel that you have to be sincere when you sing. That's why I prefer singing my own lyrics and vocal melodies.
I want people to feel at home, like comforted when they hear my voice. I don't want to barge in on people with my voice, intruding the peace or the feelings they have when they hear the music. Music says so much without words. So I feel that the voice should be in complete harmony with the music and I'll adapt to whatever the music tells me to sound like.
So that's why I feel that lyrics should really solely applicable to one subject. You know. It would be like I'm imposing my feelings to people that way. Everyone can translate my lyrics into his or her own
Q. And your personality? How does your off-stage personality translate into a profession where you need to be the ultimate performer?
A. A lot of years ago I was not as self-confident as I am today. But the exposure that I had as a club dancer and the performances that I did made me realize that I wasn't meant to be standing on the wall, you know. I'm meant to be out there, reaching out to as many people as possible. So am I shy? No, not anymore. Am I reserved? That depends how you looked at it. In my behavior towards people in the industry or people that I'm only getting to know saying they are my friends... you could say I tend to be reserved. But then again I guess that's more because I'm suspicious of people these days. I tend to call it self-protection. People aren't always what they seem. Quite often they aren't what they seem. I'm quite suspicious of people constantly saying they are honest and trustworthy, or who are saying that they are my friends even if they don't really know me all that well.
Q. The future is looking good for you, you've got 4 projects already completed or are soon to be out. Do you like being involved in the writing stages of the music?
A. I love writing songs, and I prefer to sing the songs that I wrote myself. That way I know the real feelings behind the lyrics; I know where the lyrics come from.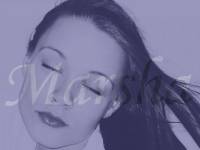 Q. What's next?
A. I read this wonderful line somewhere on the net: the past is history, the future is a mystery and today is a gift that I therefore call the present. I just keep on doing my best and we'll see what happens. Doing the best I can do is the best I can do. An international release for all my songs is expected so it's very likely that everyone will hear more from me.
Q. What is your preferred sound? Do you like singing the happy euro-upbeat slightly trance-y songs? Or are you looking to diversify with something else? If so, is the something else dance, or are you going to try and go into pop?
A. Eventually, when I get older I want to be able to say that I did just about every type of music. Not only dance, but also ballads, R & B, jazz, pop ... I don't know, I think I will just go with what seems the right thing to do at that specific time of my life. Who knows? I just want to be an artist who is generally respected for what she does or is able to do. I might end up singing the blues, which even seemed to be appropriate at some points of my life already thanks to Ian Van Dahl & company.
Q. Are you going to be touring any time soon?
A. We didn't really arrange for a full tour just yet. Might be coming up soon though, because I'm getting a lot of offers to perform. I'm finishing up on a new song called "Fairy Tale" together with William Roache, a Belgian producer. It is said to become an international hit and that it is the real European follow-up for Castles in the Sky. Another new song of mine has already been released in the USA and it's called Distant Places by LD30 feat. Marsha X. That one is already doing really well. Towards the summer I will probably be doing a small tour to present my new songs, as well as perform Castles in the sky. I would love to do a full tour to, perform all over the USA. All I can say is the more offers I get, the sooner a full tour will be arranged for. So... if you know of anyone who wants to book me, just let me know.
Q. What was your impression of the States when touring over here? Dance is not a recognized genre here. Why do you think that dance music is popular everywhere except the U.S.? Any perspectives?
A. It seems to me that Europe is aiming for the USA market and vice versa. So I think more European dance music and dance acts will reach the USA. The American artists will be able to get through to the European market too. I think the attention towards dance music will rise in the USA too, but you can never know for sure.
I think the attention towards dance music will rise in the USA too, but you can never know for sure.
Q. Who do you listen to when you're not cutting number 1 singles?
A. That must be the most difficult question in this interview.
I listen to almost every kind of music. As for saying who I listen to, well, I'm sure that once I've answered this question even more artists will come to mind but I can't possibly name them all. When it comes to dance music the first names that come to mind are DJ Tiësto, Chicane and Marco V....... Safri Duo - Played alive , Sylvio Economo - No Dip , Tone King - Pneu. Besides trancey kinds of music I like songs that are really full with rhythm and beats like e.g. Safri Duo's Played alive, No Dip - Silvio Ecomo, Tone King's - Pneu. Besides dance music I listen to TLC, Live, Marvin Gaye, Madonna, Prince, Phil Collins ... I like to sing along to those people. Too many artists that I seem to be forgetting about.
Q. Lastly, Do you have any advice for people that are looking to get into the industry?
A.
Believe in yourself. If you don't believe in yourself, how are you supposed to convince anyone to believe in you.
Don't just give it 50% of your efforts, give 200%.
NEVER GIVE UP - Everyone goes through set-backs, minor or major, but the important thing is to remember why you want to go for it.
Try to get support, encouragement from friends, family, anyone actually, so in times of need you have someone to go to, just to make sure you can't give up.
Try to get as many contacts in the music industry as possible; you never know when they might be able to help you out.